Our Nieuport 28C.1 has flown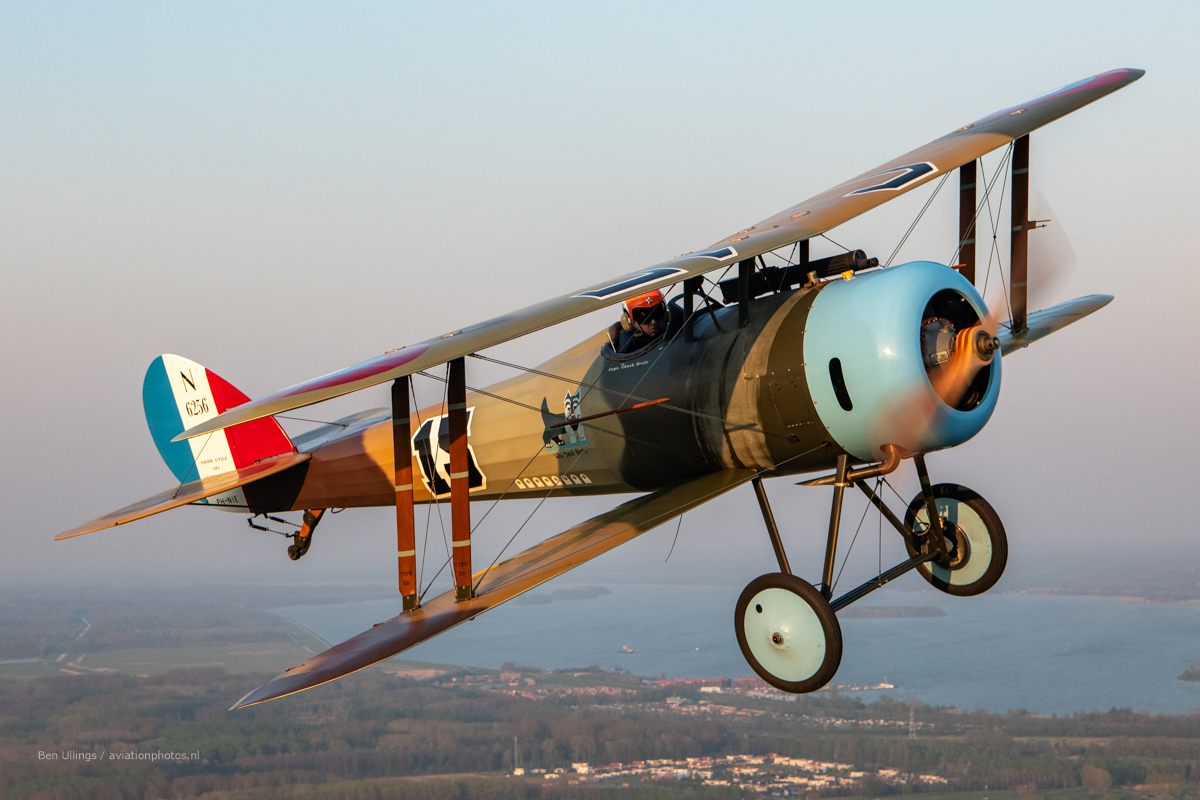 Our Nieuport 28C.1 has logged her first hours in european airspace. The airplane is both light and gentle on the controles and flies like a fighter.
Vultee BT-13A: A flight in sunny Dutch skies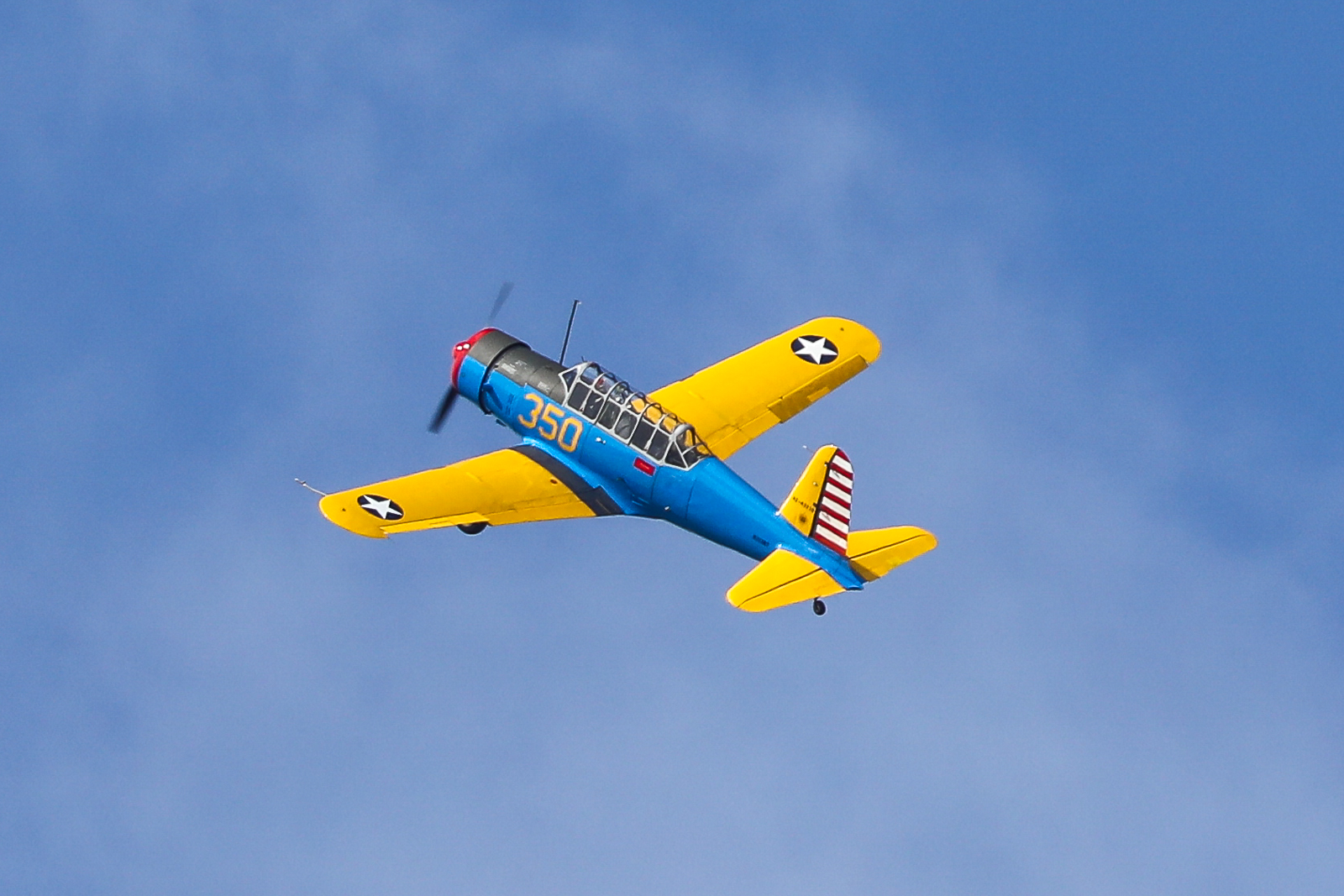 The Vultee BT-13A is an aircraft that was essential to the training of allied pilots during World War II. Although originally designed as a fighter plane, the Vultee was later converted to a basic trainer for the US Army Air Corps. In this Basic Trainer, many pilots first learned to fly a relatively heavy and more powerful airplane after being trained on a primary trainer, a Stearman or a Cornell. Among them were the pilots of the Royal Netherlands Military Flying School at Jackson Army Airfield (May 1942 – February 1944). On the Vultee BT-13A the pilots were trained in formation flying, night flying, navigation and aerobatics. Most of the students trained 60 to 70 hours on this aircraft over a period of approximately 3 months. Afterwards the pilots continued flying on either the North American T-6 Texan or the Beech AT-11 Kansan.
After the war, many of these aircraft were sold to the civilian market. Our founder Jaap van Mesdag was one of the first to buy this big radial engined aircraft. He spent his first hours in the sky, being instructed in one of these machines. This started a career that culminated in the Early Bird's unique collection.
For this reason, and the fact that there are only two other BT-13's flying in Europe, the Early Birds Foundation is very proud to present this new member of the collection, the Vultee BT-13A.
Photos by Berend Jan Floor Aironline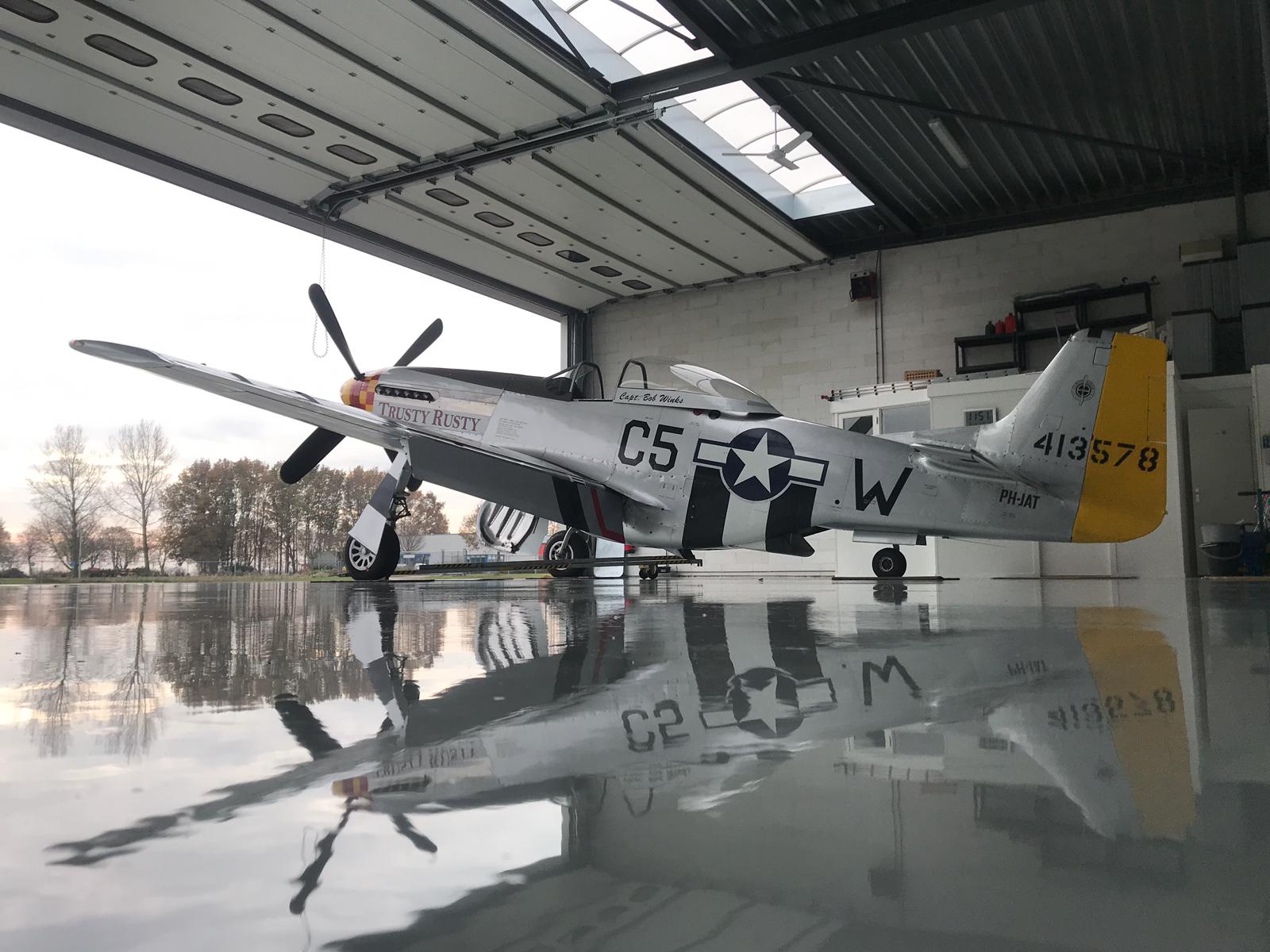 An extra hangar for our unique collection!
Find Trusty Rusty at Fly a P-51
Trustry Rusty at AOPA Fly-in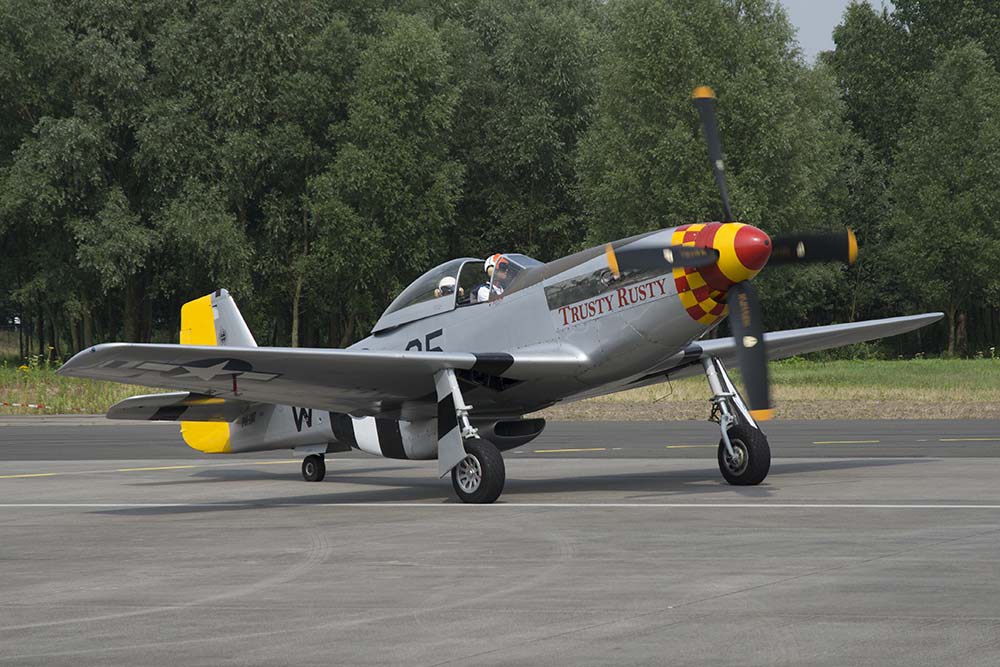 Trusty Rusty flies with volunteers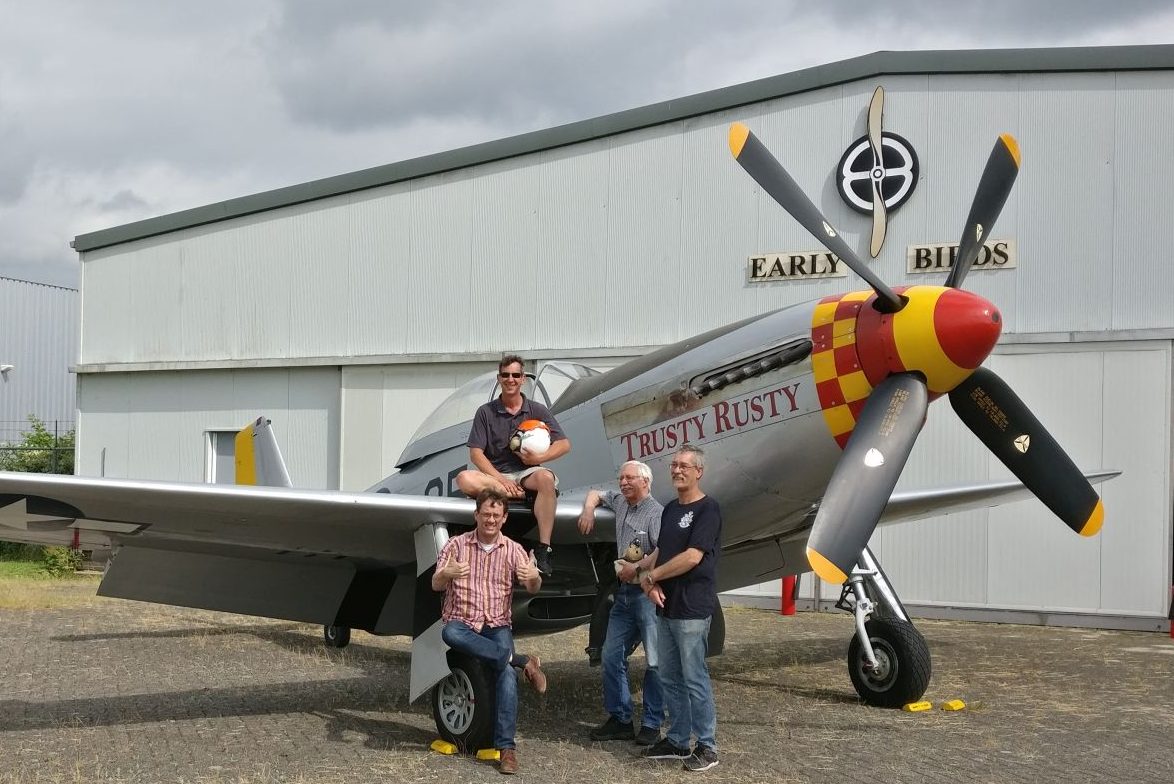 Trusty Rusty has flown with a few of the volunteers on board that helped restore her over the years.
Lambach HL.II donated to Early Birds collection
On the 29th of April the Lambach HL.II was donated to the Early Birds collection by the SSVOBB.
First Flight Trusty Rusty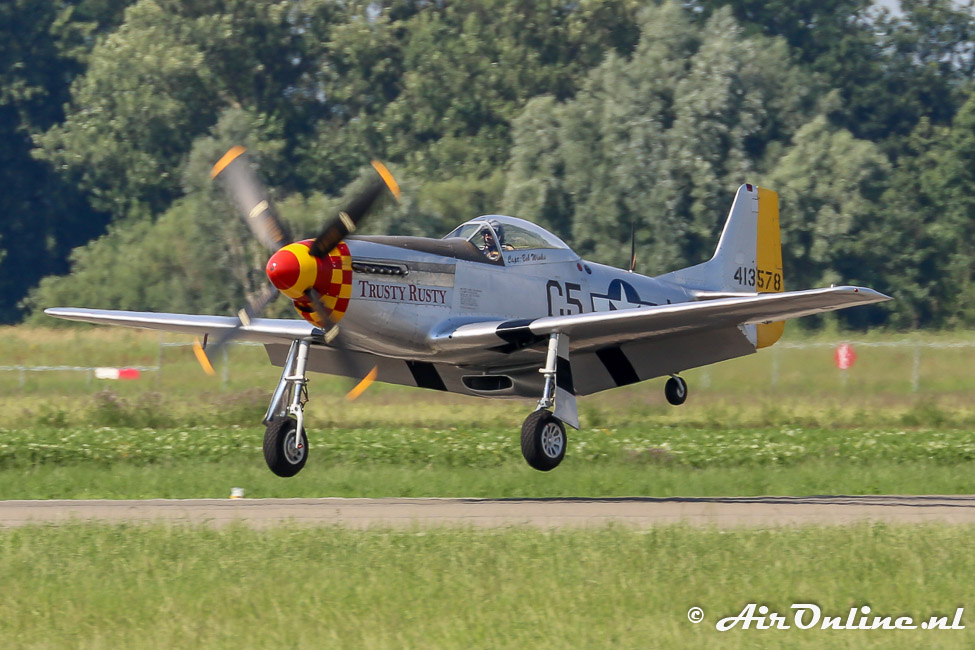 First flight of Trusty Rusty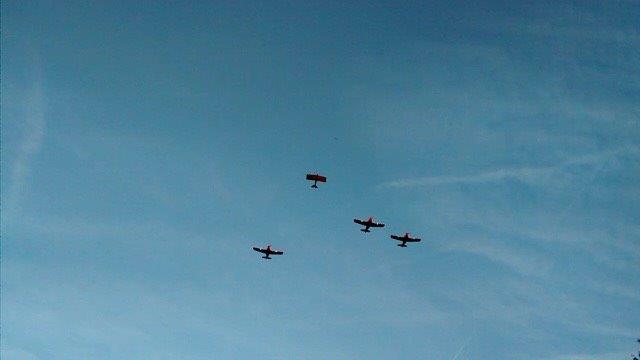 Een verslag van Maarten van Eeghen, n.a.v. De 'Missing Man'vlucht bij de uitvaartceremonie van Jaap van Mesdag
(overgenomen uit Verenigde Vleugels van Januari 2016).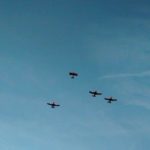 Voor Jaap wilden wij graag deze vlucht maken. Velen van ons kenden hem. Altijd met zijn groene legertrui te midden van zijn vliegende antiquiteiten en antieke medewerkers bij de Vroege Vogels. Hij wist alles van elke Eerste Wereldoorlog kist en reisde de wereld af om originele motoren te vinden en dan op te knappen. Voor mij tekende hij mijn Amerikaanse Swift uit 1943 af. Dat vond hij nog wel een vliegtuig.
Enfin, zijn tijd was gekomen na een lang en spannend leven, o.a. Met een mislukte Engelandvaart in 1942 die hij overleefde door midden op zee vanuit zijn zinkende opvouwkano op zijn trompet te blazen en zo de aandacht te trekken, die helaas Duits bleek te zijn. Vervolgens in diverse concentratiekampen tot en met Dachau. Zijn laatste jaar leed hij aan Parkinson en ik heb hem drie maanden geleden van huis gehaald voor een bezoekje aan de Vroege Vogels. Praten lukte toen al nauwelijks meer.
De Vlucht.
Om 14:00 uur verzamelden wij in ons Fokker Four Hok in de T2-hangaar op Lelystad. Robbert, in Alfa positie, had e.e.a. Met gebruikelijke precisie uitgewerkt met kaarten, headings, time ticks en google earth voor de run-in.Indrukwekkend. De T.D. Had drie kisten gereed met nieuwe (af)gewogen gewichten. Formidabel hoe snel zij een geconserveerde motor deconserveren en weer conserveren. Ons team bestond verder uit Patrick als Bravo, René Meijer met een Tiger Moth van de Vroege Vogels als Charlie en ondergetekende als Delta en Renee en Walter als co-piloten.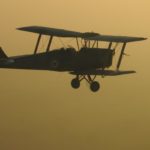 Een gedegen briefing, vooral voor de Tiger. Tanken en stipt op tijd de blauwe lucht in. Formeren in finger right en een keer oefenen. Doel was Bilthoven en al snel bleek het zicht tegen de zon in en met nevel zeer beperkt. De Tiger had wat problemen met omschakelen van frequenties en had het vooral koud. Robbert had van tevoren al gebeld met de zwevers op Soesterberg en die luisterden al uit om ons over de baan te clearen. Aan het van de baan een klapje naar rechts, de lage zon tegemoet. Met niet meer dan 95 knopen zakken om de Tiger heel te houden en precies vóór het crematoriumen op tijd werd de Tiger vanuit de finger right gelanceerd om in de zon te verdwijnen. Het moet heel mooi geweest zijn. Rustig naar huis. Een tight low pass met zijn drieën bij zonsondergang en naar Flantua om een biertje op Jaap te drinken.
Maarten van Eeghen